'It is clear that we must find an African solution to our problems, and that this can only be found in African unity. Divided we are weak; united, Africa could become one of the greatest forces for good in the world.' -Dr. Kwame Nkrumah.
Dr. Kwame Nkrumah with his ambition to unite all of Africa under one state believed football could be used as a tool to ensure that dream was achieved. Ghana has a legitimate claim to be one of the fathers of football in post-colonial Africa, thanks to the efforts of Dr. Kwame Nkrumah. To achieve his dreams, he made great use of football in Africa. In order to give more power to African involvement in football, he helped in boosting African football on the international sports scene and to gain global recognition. Dr. Kwame Nkrumah made sure Ghana was affiliated with the Federation of International Football Association (FIFA) and the Confederation of African Football (CAF). He helped in so many ways to support the Confederation of African Football (CAF) to hold African Cup Of Nations (AFCON) tournaments.
However, when a decision was made by the Confederation of African Football (CAF) to create an African Clubs Championship, Dr. Kwame Nkrumah encouraged Ohene Djan to form Real Republican Club also known as Osagyefo's Own Club in the early 1960s. The dream team was made up of two players selected from each local club in the country and that made them the best team in Ghana football. Real Republican Club players later formed the core of the national team, Ghana Black Stars.
In 1962, Dr. Kwame Nkrumah, through Ohene Djan, invited Real Madrid to play against Real Republicans in Ghana. Real Madrid, the UEFA Champions League, 5 consecutive winners by then (1956 to 1960) were boasting of great players like Puskas and Alfredo Di Stefano. At the end of the match, it was a 3-3 draw at the Accra Sports Stadium.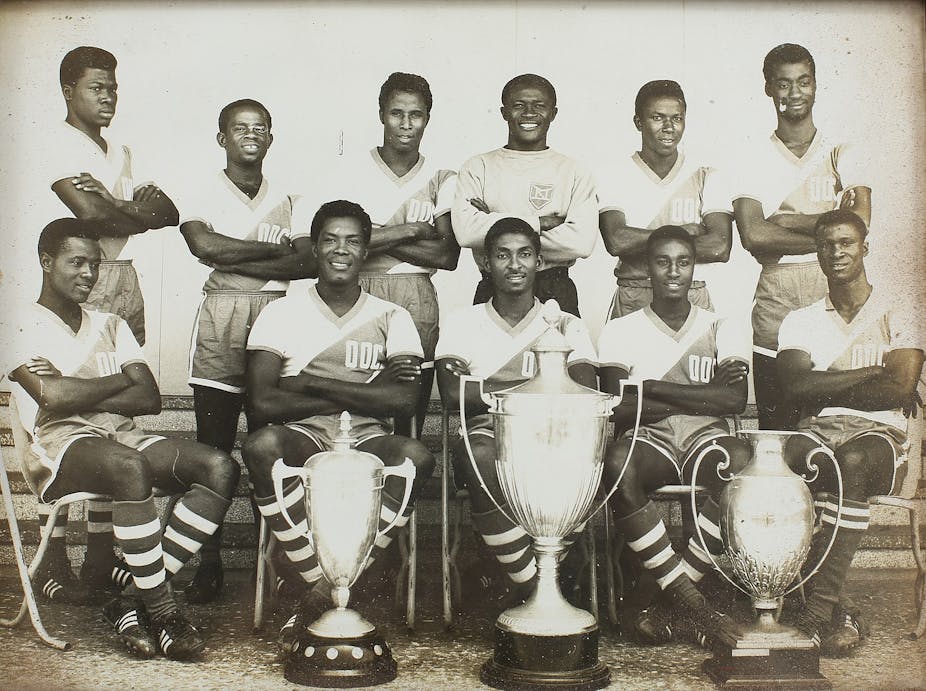 Also, in 1963, Ghana Black Stars won their first African Cup Of Nations (AFCON) on home soil by defeating Sudan 3 goals to nil. The following year, Dr. Kwame Nkrumah made sure the Black Stars represented Ghana at the 1964 Tokyo Olympic Games. Again, Ghana won a second African Cup Of Nations (AFCON) title by defeating the host nation, Tunisia by 3 goals to 2.
Coup de tat, what the Nkrumahist believed was the murderer that killed the dream of our beloved first President, Dr. Kwame Nkrumah's Africa, helped to disband Real Republican Club after President Dr. Kwame Nkrumah and his government were overthrown.
Today, we football lovers in Africa salute our father Dr. Kwame Nkrumah for seeing the unifying power that football has and dreaming to use it to unite Africa as one state. Daddy Kwame Nkrumah, with football still in existence, the African Unity dream is not shattered.